LESBIANIGHTLIFE

Memorial Day Weekend in Provincetown
May 23-26, 2019
http://www.memdayweekend.com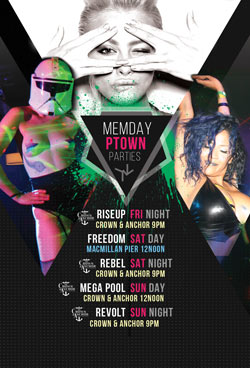 Memorial Day Weekend
4 Days of Exciting Events
Every year thousands of women from all over the globe migrate to Provincetown to kick off the summer season for the annual Memorial Day Weekend Celebration.
This year is no different. There will be shopping, cruising, and dancing, boating, beaching, biking, barbecues, parties, and drinking.
LesbianNightLife and Women for Provincetown have put together a series of events you will not want to miss.
Start off Thursday with our Meet 'N Greet at night - a relaxing way to start off your stay at Provincetown.
Then on Friday night the weekend opens up with RISEUP.
On Saturday enjoy the ocean waters off the coast of Provincetown on our FREEDOM Boat Cruise. Later than night, let your wild side out at REBEL.
Sunday morning? Rinse, Recover, then Repeat at our Mega Women's Pool Party during the day.
Then on Sunday night, join us for the Memorial Day Weekend Closing Party REVOLT.